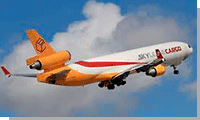 CISMAT purposes are to provide his Customers, either Airlines and Forwarding Agents, with:
- Fast and reliable services.

- Tangible benefits.

- Make them all free from all typical problems that may affect the shipments entrusted to.
Particularly to Airlines:
- Pursue a policy of transparency allowing a constant control of the G.S.S.A. activity and make any adjustment deemed useful to to maximize the yield.

- Develop their presence and influence over the Italian Air Cargo market

.